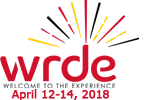 The Western Regional Dental Experience is one of the best ways to prioritize continuing education in your dental office. With over 200 CE hours available across dental professions, 55 speakers and over 130 exhibitors, this annual event has everything you need to stay abreast of industry changes.
Diverse Speaker Line Up
WRDE 2018 offers nationally recognized speakers that will help you grow as a dentist and as a business owner. (Or give you the boost to start your own!) Speakers include Paul Homoly, DDS, Karen A. Raposa, RDH, MBA, and Rob Roda, DDS.
For a comprehensive list of speakers, head to the speaker page. There's a diverse group ready to share their knowledge with you!
CE Hours for All Dental Professions
Western Regional Dental Experience provides CE hours for dentists, dental hygienists, dental assistants, and office staff. Each of these is customized to the needs of that particular track and can help your practice run smoother and serve patients better.
While some are already sold out, we have our eyes on sessions like "The Design of an In-Office Membership Plan", "Performing Under Pressure", and "The Medicalization of Life".
Learn About Upcoming Products and Developing Technology
The exhibition floor at Western Regional Dental Experience is an essential piece of the weekend because it's an opportunity to learn about new technology and products that can help your patients. From scanners to supplies to insurance, this is the time to talk with these companies in person.
If you're on the hunt for specific supplies or services, they have a full list of exhibitors on their website. Be on the lookout for show specials you can't get anywhere else!
As you focus on continuing education for your team in 2018, Western Regional Dental Experience is one of the best ways to help you and your team grow. From speakers to exhibitors, this is a top dentistry resource.
As one of the exhibitors attending WRDE 2018, we're excited to share what we've been developing in our lab. We'd love to speak with you! Visit us at booth 716 on the exhibit floor.