Our Mission Is Simple
Consistently delivering premium quality dental restorations and services on time and exactly as prescribed. We take restorative dentistry seriously so you can enjoy piece of mind when you partner with Dental Prosthetics. – a full-service Certified Dental studio serving doctors in Tucson, Vail, Oro Valley, Catalina, Sierra Vista, Green Valley and greater Arizona since 1969. Thanks to state-of-the-art dental and communications technology and a strong business relationship with shipping companies like UPS and FedEx, we are able to serve dental clinicians nationwide. Experience the magic of Dental Prosthetics and see how our dental crowns, bridges, dentures, partials, dental implant restorations, guided surgery services and teeth-in-a-day offerings can help you increase patient satisfaction, reduce chair time and increase practice profitability. You will also be impressed with our elevated level of personalized service and technical support you receive on an ongoing basis.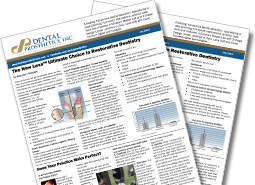 "I have worked with Dental Prosthetics for 20-plus years and they continue to excel in customer service. Nothing has changed over the years. I can depend on the product to be perfect and on time. They are always willing to go the extra mile to take care of me and my patients. Dental Prosthetics should be a model for dental labs worldwide."
– Dr. Charles E. Roberts, Tucson
"I've been working with Dental Prosthetics since 1992 for crown and bridge. They are always working to improve their methods, materials and skills, which benefits both me and my patients."
– Dr. Edward C. Carlson, Tucson
"I have been working with Dental Prosthetics for 26 years and appreciate their quality and convenience. Being a local facility, the lab is able to make modifications to products while my patient is sitting in the chair. This is not only effective for me, but extremely efficient for my patients."
– Dr. Sharad Pandhi, Tucson
"I am a new dentist and I appreciate Dental Prosthetics for teaching me about new dental materials on a weekly basis. They have been extremely helpful as I was limited to dental materials in dental school. DP welcomes my questions, and I am extremely trusting of their opinion."
– Dr. Laura Sheaffer Harkin, New Holland, Pa.
"The technicians and staff have kept pace with the new technologies and have been able to control the quality of their products while doing so. We have spent time with the technicians discussing cases and have found a great synergy when ideas are shared. Without hesitation, I extend the highest praise for our colleagues at Dental Prosthetics."
– Nancy R. Johnson, Tucson
"Dental Prosthetics has reawakened my interest in dentistry. After doing the same type of work over the years, I am now able to truly change people's lives with advances in dental cosmetics. The lab continues to exceed my expectations, and I actually use Dental Prosthetics as a selling point for prospective patients."
– Dr. Harry Reece, Tucson
"Dental Prosthetics is innovative, thorough and most superior in products. They are always on the cutting edge of technology with their products and services and, most importantly, stand behind their work. They have the friendliest staff I have ever met, from the technicians to the delivery drivers. Thank you, Dental Prosthetics."
– Dr. Kenneth M. Wortzel, Tucson
"Dental Prosthetics makes my life easier. I've tried cheaper alternatives, but I keep coming back to Dental Prosthetics for the high quality crowns, bridges and implants. Their customer service is top notch. I also appreciate working with their highly skilled technicians to help solve technical problems and ultimately provide the best product for my patients."
– Dr. Michael L. Brace, Tucson