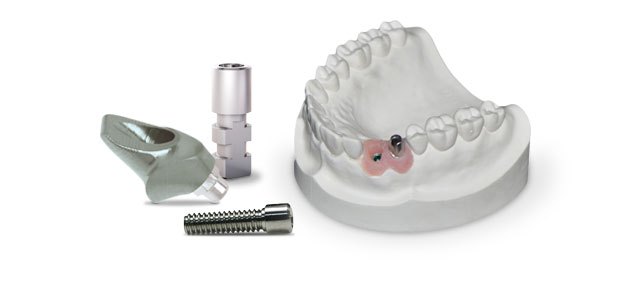 Dental Prosthetics' restorative excellence meets case planning simplicity in Doctor's Choice Flat-Rate Implant packages. Every implant package includes patient-specific titanium manufacturer abutment, ZirBrux™ crown, set up, design, titanium screw, soft tissue model and analog. Zirconia abutments and premium crowns are also available in premium options.
Pro-fit Abutments™ can help you reduce chair time and improve patient satisfaction. Follow our step-by-step guide for taking a Pro-Fit Implant Impression™ (traditional or digital) and seat the abutment with our Pro-Fit Insertion Guide™, to ensure the abutment is clocked perfectly, and we will guarantee a precise fitting abutment and crown! We call this our Pro-Fit Guarantee™. Did you know we are an Atlantis™ Super Elite Lab, a BellaTek ®3i Encode® Empowered Lab and a Nobel Biocare®Diamond Partner Lab?
We take your Pro-Fit Impression™ and apply a strict, consistent process for designing and fabricating your beautiful and accurate-fitting restorations. Upon completion, we will ship your abutment and crown with our exclusive Pro-Fit Kit™ to facilitate our guaranteed fit. Give it a try today.   You'll love the results!
You'll know our final fee before you begin. No surprises! After you select your crown, request an All-inclusive Pro-fit abutment package and rest assured you won't be nickel and dimed afterwards. Our all-inclusive fee includes a custom CADCAM abutment from manufacturer of choice, implant set up; soft tissue; clinical screw; exclusive Pro-Fit Kit™ and use of an impression coping and analog, as needed. Receive a 100% refund on impression coping and analog if returned within 30 days.